6 Ways to Make Your Product Unique
So you want to sell online and are ready to get things started, but let's be honest: you're just a little bit nervous. Or maybe a LOT nervous. In your mind, you can't help but wonder how you're going to make the products you've been thinking about selling stand out—especially when there a few (or a lot) of people kinda selling the exact same thing. I'm going to let you in on a little secret AND give you 6 ways to make your product unique and make sure that you always have an upper hand no matter what you're selling.
Keep reading!
6 Ways to Make Your Product Unique and Stand Out Among All the Others
Okay, here's the secret: people want to buy interesting products that they connect with from brands that connect with them.
Let that sink in.
Even in the online world of e-commerce, where everything generally seems pretty straightforward, people still LONG for an experience. They WANT to get that product they want or need from someone who "GETS" them.
I'm going to be honest: I didn't always understand that. I thought that if you had a strong brand and offered people cool stuff, they'd want it from you. But I learned that's not true from a crazy moment that had to do with…cake stands.
Here was the combo I had going: super cute cake stands and a video of me showing how they could stack on top of each other. Seems like a winner, right? Um, no. Because even though the stands were cute and pretty dang functional, nobody was dying to get them because they couldn't envision how to use them. I wasn't connecting to them in the right way.
Fast-forward>>
Me, on my porch with the same still-cute cake stands. But this time, I created a cake made out of ice cream bars on one of those stands. It looked delicious, it was so easy anybody could do it and the people who saw the video instantly knew how beautiful the cake stand could make their desserts look.
Guess what happened.  WE SOLD OUT!
Note: It wasn't the stands that had changed, it was ME! I had shown people how to use the product, and I did it in a way that was quick and fun to watch (seriously—who doesn't love an ice cream cake? The leftovers were sooo good!)
Ta-dah! Lightbulb moment!
After that, I knew that the best way to sell online was to start with the customer in mind.  Just like a boutique that you love to walk into because of the beautiful displays, fragrances and service, it matters how you connect your customers to your products and—most importantly—your brand. Over time, I put together six hard-and-fast rules that make every product unique enough to stand out. And guess what? It worked for virtually every product I sold, from cake stands to stamps to pillows!
Here are the 6 proven ways to make your products stand out for your online business:
     Give 'em a little personality
How you name your product or describe it in the listing matters. Make things interesting—and you'll make them irresistible.  (Check out my post about writing product descriptions if you need a dose of inspiration.)
     Tie them to the here and now
Oh my heavens—this is such a good one. Let me give you an example: every year at the end of January or the beginning of February, there's a certain football game that tends to gain a lot of attention, right?  Now, while it's not okay to use that "big game" name that usually has Roman numerals behind it (seriously—lots of legal problems with that!) it's definitely okay to somehow tie your product to something that screams gridiron. Snack trays? Tee-shirts? Scarves that just happen to be in the colors of the teams playing in that game?  Yep!
     But wait…there's more!
You guys, I built a reputation on adding a tiny little bonus in every package: a bright little piece of taffy. People LOVED it! They still do!  When you give them something a little extra, most customers will remember (and thank) you for it!
     Go against the grain
You know that Dr. Seuss quote about standing out instead of blending in? The same is true when it comes to making your product unique. While you always want to consider trends in selecting a product to sell online, there's no reason to present it exactly the same way as others do. From the angle of photography to the colors of product you choose, try to switch things up.  
     Show some (life) style
Okay, I'm going to mention "the big guy" in this one: Amazon. They've developed a style that is fast and efficient when it comes to selling a bajillion products, and that is to focus on isolated imagery. That works for them, right? But it doesn't work well for a lot of us "little guys" out here. Lifestyle photography is—9 times out of 10—the right way to go. Lifestyle photos tell a story—not just a bunch of facts.
     Facetime
I wrote a post here about how showing faces in your images can increase engagement AND sales.  People connect with other people—not products. So consider making faces a part of your product photos and your brand.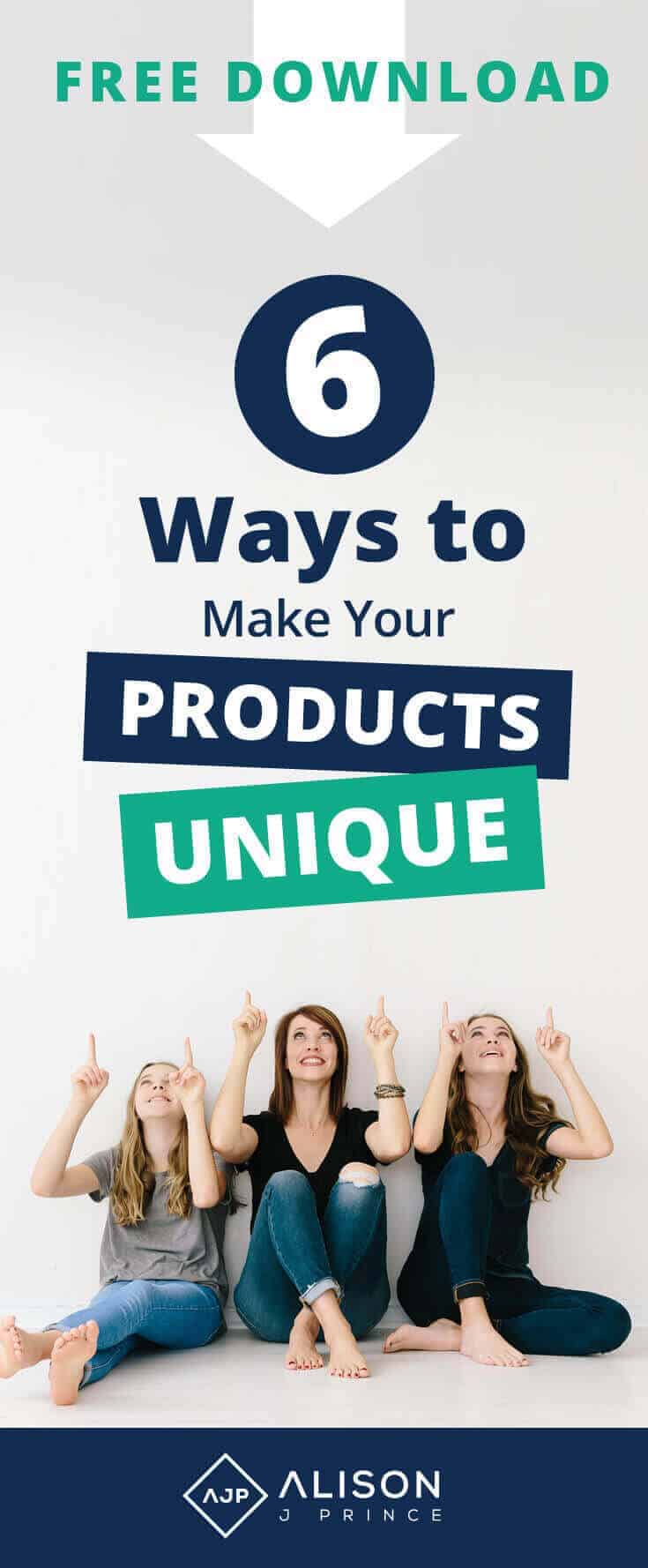 These 6 Ways to Make Your Product Unique are straightforward, and they are powerful.  Simply click the link to get a downloadable .pdf of the list delivered to your Messenger inbox in seconds!
Enjoy!